Our products
Emulseo develops surfactants, oils and surface treatments that have been specifically designed to ensure reproducible experiments and reliable results.
Apart from our ready-to-use microfluidic formulations, we also have the ability to provide customized solutions or services.
Don't hesitate to contact us to discuss about how we can accompany you on your research projects!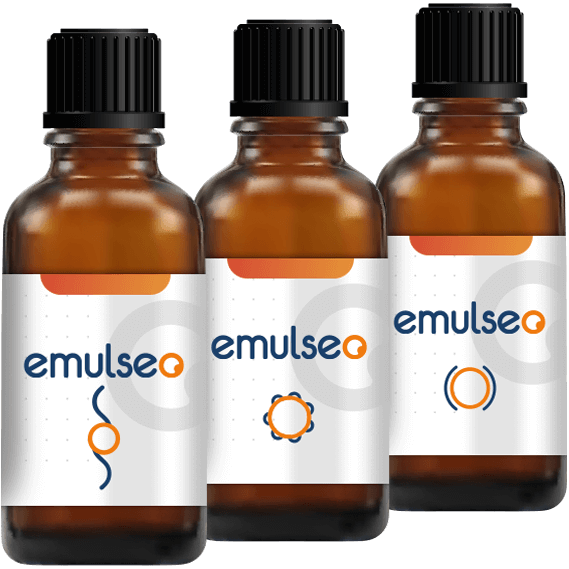 Our products
Surfactants
More information
See product table
Name

Reference

FluoSurf neat - 1g

1903-01

FluoSurf neat - 10g

1903-02

FluoSurf neat - 100g

1903-03

FluoSurf 2w/w% in HFE 7500 - 10mL

1903-04

FluoSurf 2w/w% in HFE 7500 - 50mL

1903-05

FluoSurf 4w/w% in HFE 7500 - 10mL

1903-06

FluoSurf 4w/w% in HFE 7500 - 50mL

1903-07

FluoSurf 2w/w% in FC 40 - 10mL

1903-08

FluoSurf 2w/w% in FC 40 - 50mL

1903-09

FluoSurf 4w/w% in FC 40 - 10mL

1903-10

FluoSurf 4w/w% in FC 40 - 50mL

1903-11
Oils
More information
See product table
Name

Reference

Fluo-Oil 7500 - 10mL

2011-03-01

Fluo-Oil 7500 - 50mL

2011-03-02

Fluo-Oil 7500 - 100mL

2011-03-03

Fluo-Oil 7500 - 500mL

2011-03-04

Fluo-Oil 7500 – 1L

2011-03-05

Fluo-Oil 40 - 10mL

2011-04-01

Fluo-Oil 40 - 50mL

2011-04-02

Fluo-Oil 40 - 100mL

2011-04-03

Fluo-Oil 40 - 500mL

2011-04-04

Fluo-Oil 135 - 10mL

2011-05-01

Fluo-Oil 135 - 50mL

2011-05-02

Fluo-Oil 135 - 100mL

2011-05-03

Fluo-Oil 135 - 500mL

2011-05-04
Surface treatments
More information
See product table
Name

Reference

Fluo-ST1 - 7mL

2011-01

Fluo-ST2 - 8mL

2012-01